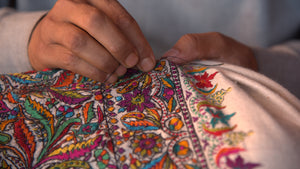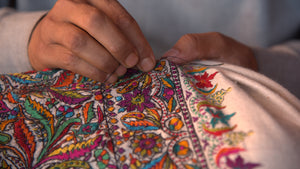 Established in the year 2020 with its headquarters at Raipur, Chattisgarh, Dusala aims to bring to the world pure and handcrafted Pashmina shawls, stoles and scarves for men and women. We, at Dusala, believe in excellence, perfection, expertise; each stage of the process is inspected by our team to make sure that the same level of quality and beauty is maintained for all products. Each piece under our brand is unique, charming, gorgeous and made just for you.
DUSALA - THE EMOTION
Dusala's fibre started with Sugandha's growing up years in North India, her love for hand worked pieces, and her professional experience as a fashion journalist and then fashion vlogger, entrepreneur and social media influencer, though the weaving story began with Sugandha's journey around the world and through the mountains and valleys of India.
DUSALA – OUR FAMILY
Our weavers are our reason for existence. The weaver community's passion ensures each piece is a head-turner, unique and stunning, and are a part of our big extended family.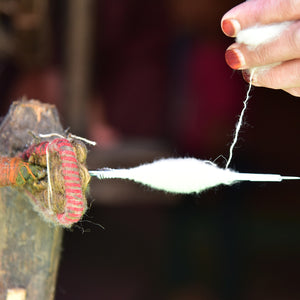 The Geographical Indication
DUSALA INDIA SUPPORT HANDCRAFTED ARTISANS OF INDIA
Geographical indication (GI) is a sign used on products that have a specific geographical origin and possess qualities that are due to that origin. Since the qualities depend on the geographical place of production, there is a clear link between the product and its original place of production.
Honouring the artisans of the valley, a luxurious compilation of Pashmina shawls features the Geographical Indication (GI) certification tag. The shawls are hand spun in the most skilful manner, and later hand woven to produce exceptionally delicate and beautiful shawls. The GI tag is a certification of their high quality and a proof that these art pieces are handcrafted from the finest of Ladakhi Cashmere with a fibre count of 12 to 16 microns, hand spun by local artisan, followed by an intricate handweaving.
Importance of a G.I:
- Authenticate genuine Pashmina shawls only to save customers from buying fake, replicas or counterfeit shawls.
- Help local artisans to secure their economic benefits.
- Improve the value of a Pashmina shawl.
What is Craftmark?
Craftmark was launched in 2006 as the only national certification programme for genuine Indian hand-crafted products, produced in a socially responsible manner.
It is awarded by AIACA and is a registered with the Trademarks Authority of India as a Business Trademark.
What does Craftmark stand for?
• Differentiates genuine Indian handicrafts from machine made products
• Develop sector-wide minimum standards and norms for labelling a product as handmade
• Increase consumer awareness of distinct handicraft traditions
• Denote that products are made in a socially responsible manner
• Minimum wages are paid to artisans
• There is no child labour
• Basic occupational health and safety standards are met
Craftmark Network
PASHMINA - THE CRAFT
Pashmina products are made from the fluffy fur of the Himalayan mountain goat, Changthangi. The wool goes through 30 stages of craftsmanship, each stage involving high levels of detailing, precision, expertise and patience – a shawl can sometimes take 400-550 days to be made!
KNOW MORE